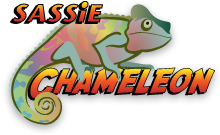 Chameleon
Get unbeatably gorgeous shop views with SASSIE Chameleon.
It's Incredi-Flexible! Any Images, Any Fonts, Any Colors.
Select a Theme or Design Your Own!
Available Resources:
Introduction
Watch our 3 minute commercial to learn what Chameleon is all about

Click here to view

Theme Gallery
See which Themes are available in Chameleon

Click here to view

Widget Gallery
See which widgets (graphs, charts, info, and controls) are available in Chameleon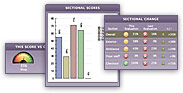 Click here to view

Widget Conversions
See how Chameleon version 1 widgets map to the new version 2 widgets

Click here to view

Business Case
Watch our infamous 14 minute presentation to the MSPA to learn why Chameleon can help you sell
Click to View the 2009 MSPA Chameleon presentation:
View in your web browser

Download

How To
Watch our 17 minute Decemeber 2009 webinar for a quick overview on how to use Chameleon
Click here to View the December 2009 Webinar

Flyer
Sell your clients on the benefits of Chameleon Shop Displays!
Click here to download the CHAMELEON FLYER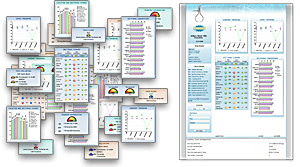 FAQs:
1. Will Chameleon work on any kind of shop?
Chameleon works on the vast majority of surveys, but there may be issues with the following elements:
CSS that you embedded into thesurvey questions
Previous Custom Displays and Weather Shop information will be deactivated
most Display Customizer settings will be overriden with the exception of hiding scoring
2. What does Chameleon cost?
Chameleon is completely free for unlimited usage
3. Who can customize a theme for me?
Your own designer (Chameleon is based on CSS, an open web standard)
An independent Chameleon designer (we will be creating a Chameleon Designer website where approved designers can post their portfolio of custom Chameleon themes)
A SurfMerchants designer (as a last resort, as we have limited capacity to create custom themes - you'll get faster turnaround and lower prices with your own designer or an independent designer)
4. What levels of customization are there?
Image swap: Select and existing theme and replace images
CSS "Tweak": Edit fonts/typography, colors, some page formatting
CSS Layout: Completely redesign the page layout and positioning of elements
5. I need to modify a widget / I need a new widget
We do not currently have the capacity for custom widgets or private widgets. However, we will add widely requested widgets periodically. Furthermore, we plan to create "configurable" widgets, or widgets that have options that you can set to your clients' preference.